Are you looking for the best domain registrar for your needs? A domain name is your gateway to the internet. Once you have the idea for a good blog or website, you will need to have a compelling domain name to get started with.
To purchase a good domain name for your next website, you'll have to work with a domain registrar. There are many domain name registrars out there, such as NameCheap, Hostgator, Bluehost, Hover, Hostinger, etc. These are companies that manage all your favorite websites' domain names.
In this article, we're going to learn about domain registrars and help you choose the best domain registrar for your domain name.
What is a Domain Registrar and How to choose the best Domain Registrar?
Domain registrars are services that let you register and buy domain names. They have been accredited by ICANN, a non-profit domain name management system. Without this system, we'd only see a string of random numbers (IP address), instead of an easy-to-remember address name (domain name).
For example, if you wanted to build a website for selling custom iPhone cases, you'd need to get a proper domain name (e.g., customiphonecases.com) from a renowned domain registrar. During the process, you'd also want to pick the best domain for your website URL, the extensions that follow your domain name, such as .com, .co, .io, .org, etc.
Purchasing and renewing domain names is now easier than ever. But it's still recommended to choose wisely as each domain registrar company has their own set of features. Once you know which domain name you're going to use for your website, it's time to purchase it from the best domain registrar. Here are the things you need to consider during your search.
Domain Transfers
Domain transferring is not something you do right away, but maybe in sometime in the future when you want to transfer your domain to another registrar. So, it's important to check the transfer details policy as normally you can only transfer a domain after 60 days from your registration day. Some domain registrars allow for domain transfer without a cost while some registrars don't, and if they do, they'll charge you for it.
Contract and Pricing
This should be your immediate focus. You'll find all kinds of pricing options while searching through different domain registrars. Usually one can register their domain for a period of one, three, five, or in some cases even longer than 10 years. The recommendation would be to register for a year at first. Then by turning on automatic renewal, you can switch registrars if necessary because your domain won't expire.
Customer Support
This is a great concern. You need to make sure their support staff is responsive and always on your side especially when something goes wrong with your website. Examining different levels of support can lead you to user reviews from their customers. You can also put in a request for support to see how quickly they respond.
Additional Services
Many domain registrars offer additional web services alongside registering a domain name. They can help you build your site, host your domain names, and purchase other certificates. So make sure to compare the pricing of all the bundle services while getting an all-in-one domain registrar.
Drop Catching
If you don't renew your domain name or forget to renew it, then your domain will expire or be available for someone else to purchase. This means your domain will no longer be in your possession and it's not good for your business. Some of the best domain registrars have a service that holds onto the domain name for a certain period of time to prevent others from buying it.
3 Important Things to Look Out For When Choosing the Best Domain Registrar
We've already explained the key-features that you should know before choosing the best domain registrar for your website. But there are three things you need to look out for. These aren't easy to find, but with a little bit of research you can track them down and end up with an overall best domain registrar.
Pricing Add-ons
Make sure to check these before purchasing your domain name as a lot of domain name registrars will tack on "added fees." Most of these fees are commonly privacy protection and WHOIS. So whenever you see a domain registrar offering a super low price, you know something's up.
Transfer Fees
There's no guaranty that you will stay with your current domain registrar forever. Or, you might also sell your current domain in the near future. Whatever it is, you'll need to watch out for hidden transfer fees. While some registrars will do this without any additional charge, others will charge you. So, make sure you know about their fees beforehand.
Bad User Experience
After purchasing your domain name, you'll need to set up the DNS servers, install a CMS like WordPress, and create any associated email addresses to get your site up and running. This can be an issue if the domain management system isn't user-friendly. Choosing the best domain registrar will make things easy for you.
5 Best Domain Registrars
Namecheap can be a great choice for your domain name registration. They have highly intuitive, and easy-to-use website, especially their domain management pages are very user-friendly. You'll get domains at reasonable prices, a DNS service, and WHOIS protection. If you want to enhance the security of your domains, Namecheap also offers SSL encryption to help you with that.

Namecheap has the best checkout process. They offer chat support, and it's very responsive and helpful. If you run into any issues with setting up your domain, Namecheap offers tons of easy to learn tutorial videos that you can follow.
Hostinger is a well-established domain registrar and web host, and it's been around for years. They attract over 15,000 people to their brand on a daily basis, selling domain names and hosting.

The pricing is on the spot with Hostinger. They offer one of the cheapest pricing around the web for a Dot Com. What's more? If you don't want a Dot Com and rather have a less popular domain extension, such as .tech or .xyz, then you can get these domains for even a lower price.
No matter what you plan to do online, HostGator can be a great place for your domain registration. They go beyond just registering domains. HostGator is mainly known for their efficient web hosting system. They offer low-priced domain registrations and web hosting.

You can't go wrong with HostGator. When you purchase a bundle package from them and also plan to get their hosting service, you'll be more than happy to know that they have an uptime of 99.99%. This means your website will rarely ever go offline. HostGator is currently hosting more than 9 million websites on their platform.
Bluehost is a popular web host and known to be one of the best domain registrar and hosting services for beginners. So, if you plan to register a domain name and at the same time purchase hosting, then Bluehost is the best option you have.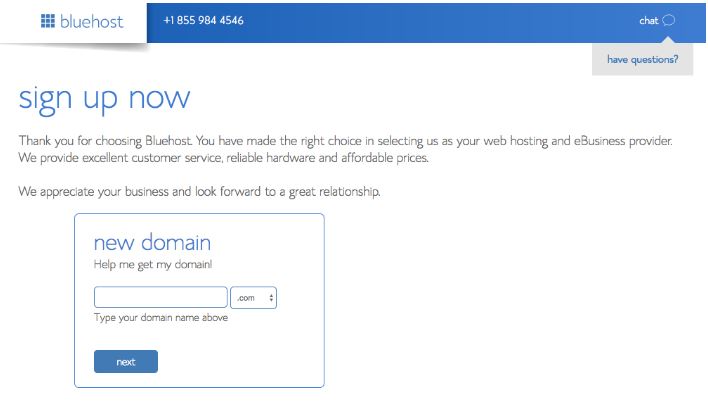 Bluehost have hosting packages that give you a free domain name while purchasing hosting. So if you need both a domain and host at the same time, then Bluehost could save you some bucks. Many people choose Bluehost because of their 24/7 stellar support team.
Hover is amazing and extremely straightforward. It's a merger of three big companies in the domain registrar space. Hover offers domain registering at reasonable prices. You can easily register a domain name with Hover because that's all they offer, nothing extra.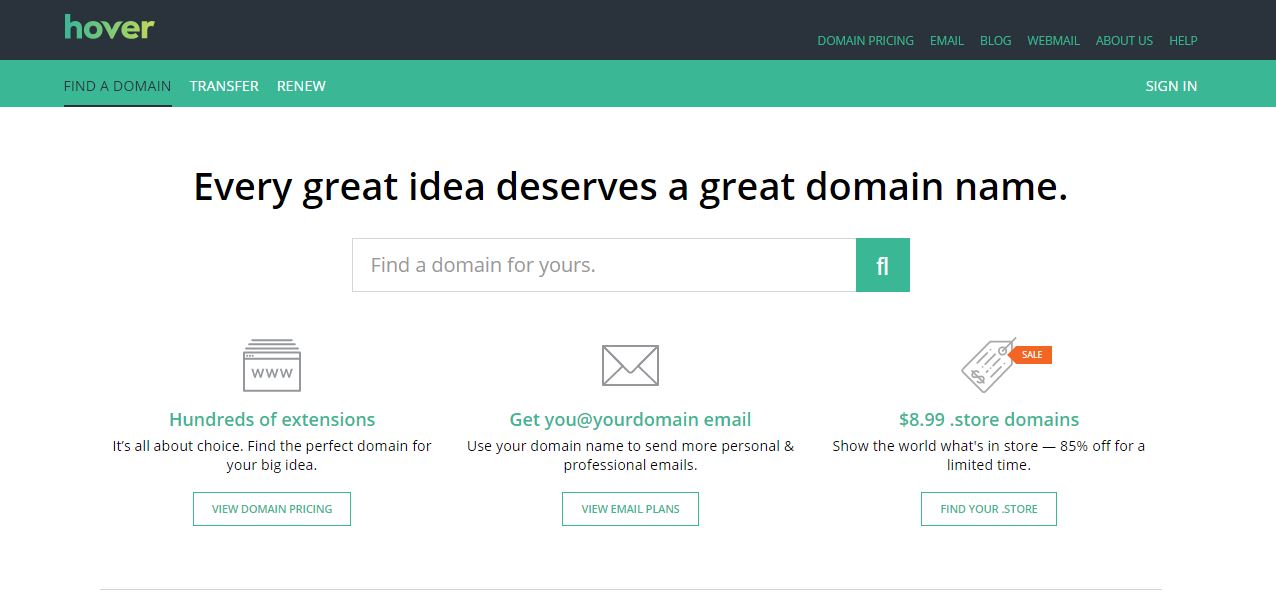 Hover focuses their service around domain registering only, meaning their support system is excellent. Whenever you face an issue, there'll always be someone to help you with it. Setting up your domain names with Hover is quite seamless as well.
GoDaddy is the best domain registrar and hosting company when it comes to great offers and services. If you plan to go with GoDaddy, then you won't need to look anywhere else. GoDaddy is the world's biggest domain registrar, and they sell a bunch of other services to support big sites, e-commerce sites, and so on.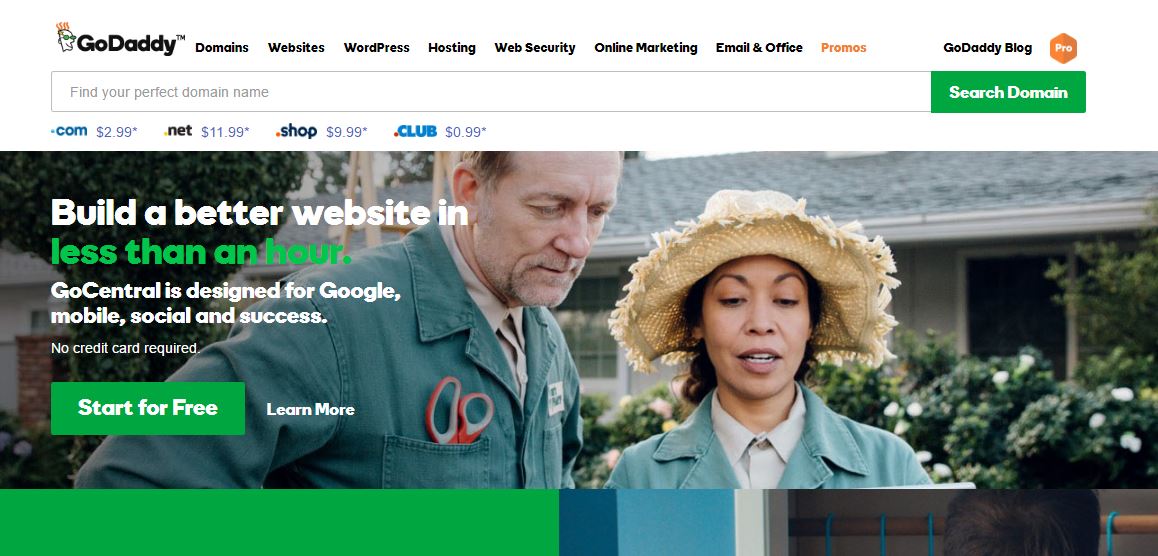 GoDaddy has chat support and stellar phone support. This is helpful for those who want to speak to a person rather than getting support via email. They often run promos where anyone can purchase domain names at low prices.
Founded in 1997, Dreamhost is a successful, full-fledged domain registrar and hosting provider. They currently have over 400,000 customers and host over 1.5 million websites. If you're looking for a combo solution for both host and domain registration, then Dreamhost is a good choice.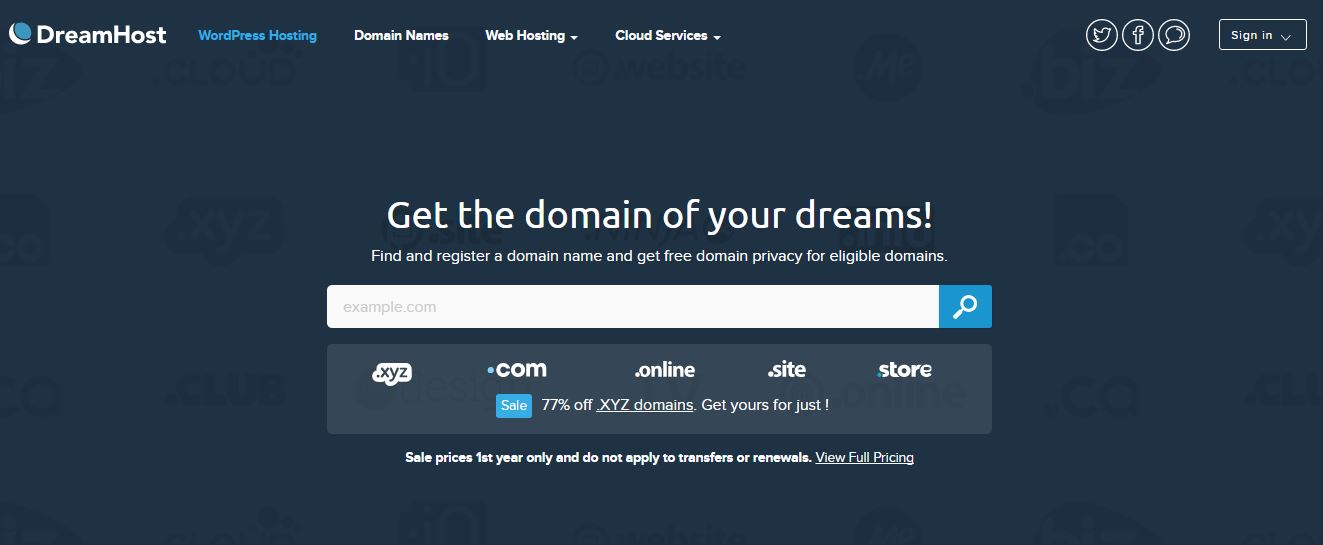 They have a lot of useful features, such as unlimited domain name extensions, user-friendly domain settings, free domain privacy, etc. The pricing with Dreamhost is pretty low, and they also have a good support team for their customers.
Wrapping Up
Registering domain names is a must when it comes to creating websites. And you can't register a domain name without a domain registrar as it takes care of everything regarding your website registration process. This is why choosing the best domain registrar is important, especially for those who are just getting started online.